It was a particularly tough day in the markets for investors in Healthy Extracts Inc (OTCMKTS:HYEX) as the stock suffered from a strong selloff and went down by as much as 16%. While it cannot be denied that the stock was in the middle of a downward spiral, it should also be noted that the company did make an important announcement yesterday and one could do well to take a look.
Trading Data
On Wednesday, HYEX stock moved down 16.13% to $0.0499 with more than 13K shares, compared to its average volume of 30K shares. The stock moved within a range of $0.0498 – 0.0555 after opening trading at $0.0498.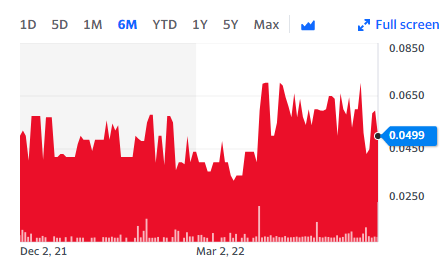 Healthy Extracts Major Brand Influencer Launches the World's First Brain Activate Gel Packs on WhitneyJohns.com
The company announced that Whitney Johns, who is one of the top brand influencers for Healthy Extracts, had launched a new product named Brain Activate Gel. The product is a unique gel pack and had been made available on Whitney Johns' website on Wednesday.
That being said, it remains to be seen if this product launch leads to any kind of upside for Healthy Extracts or not and that is possibly one of the major reasons why investors were not particularly keen on the company's stock yesterday.
It should be noted that Healthy Extracts is also involved in the same sector and is best known for manufacturing heart and brain health plant-based products. It might be a good move to keep an eye on the stock today.
Key Quote
"Simply put, if you wanted to feed your brain anything, this would be it," said Whitney Johns. "Whether you're into finance, sports, or learning, or just looking forward to having a super productive day, this amazing gel can help you get in the zone and optimize your brain no matter your age or profession."
Technical Data
HYEX stock is trading above the 10-Day and 20-Day Moving averages of $0.0389 and $0.0395 respectively. Moreover, the stock is trading below the 200-Day moving average of $0.0663.