A company that could well be a subject of focus among investors today is Discount Print USA (OTCMKTS:DPUI). Yesterday the company had come into the news cycle after it announced its financial results for the second fiscal quarter that had ended on December 31, 2021.
Trading Data
On Thursday, DPUI stock ended flat at $0.11 with 5K shares, compared to its average volume of 1.9K shares. The stock moved within a range of $0.1100 – 0.1100 after opening trade at $0.11.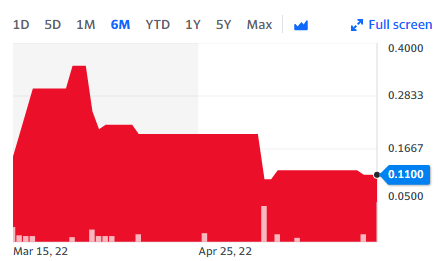 Discount Print USA Reports Second Quarter FY 2022 Results
It may be a good idea to perhaps take a look at some of the highlights from the financial results before the beginning of the trading day. The company managed to generate net sales to the tune of as much as $68000 for the second fiscal quarter and that proved to be considerably higher than the $9000 in net sales in the prior-year period.
On the other hand, the company managed to generate gross margins of $29000 for the period and that was again a major improvement on the gross margins of only $4,000 in the prior-year period. In this regard, it ought to be noted that Discount Focus also announced that in the six month period ended on December 31, 2021, it had managed to bring in net sales of $143,000 and that reflected a massive improvement in the net sales of only $17,000 in the prior-year period.
Key Quote
Ronald Miller, President of Discount Print USA, stated, "This was a good quarter for the Company and a strong start to the first half of the fiscal year. As the Covid pandemic continues to cause disruptions within supply chains, we have been able to increase sales all of which can be attributed to our sales and marketing initiatives. Some of our customers that had suspended or significantly cut back on operations in response to the pandemic have resumed operations and we have been working with them to provide products. We continue to work with our suppliers and manufacturers to ensure that we are in a position to satisfy our customer needs as they gradually return their operations to pre-pandemic levels."