Health tech, clean water, and green tech company Healixa Inc (OTCMKTS:EMOR) had a great time in the markets yesterday as its stock soared from an almighty buying and ended the day with a gain of as much as 43%.
Trading Data
On Thursday, EMOR stock soared 42.81% to $0.8997 with more than 10K shares, compared to a volume of 8.9K shares. The stock moved within a range of $0.6500 – 0.9000 after opening trade at $0.65.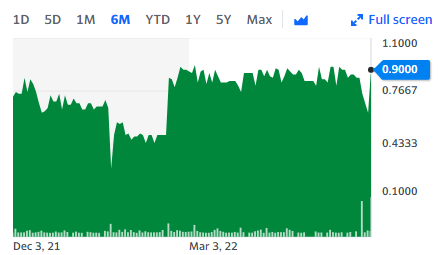 Healixa Strengthens International IP Protections in Preparation for Commercial Launch of Global AquaDuct™ Atmospheric Water Harvesting Product
Bullishness in the stock as Healixa actually made a significant announcement yesterday and it may be a good idea to take a look into it. The company announced yesterday that it had entered the application filing stage for patent coverage for its product Global AquaDuct™ Atmospheric Water Harvesting in as many as 132 nations. The application is going to be made as per the provisions of the Patent Cooperation Treaty.
The chairman and Chief Executive Officer of the company Ian Parker noted that the company is preparing to launch the harvesting product soon and hence, it was necessary to have strong patent protection in place. He went on to note that the company had managed to complete the final phase of the Patent Cooperation Treaty and hence, Healixa was now a step closer to getting the coveted patent protection.
Key Quote
"As our team prepares for the upcoming commercial launch of our Global AquaDuct™ water-harvesting device, we are ensuring we have robust patent protections in place, and with the final phase of the PCT process now complete, we are one step closer to securing patent coverage in 132 countries globally," commented Ian Parker, Chairman and CEO of Healixa.
Technical Data
EMOR stock is trading above the 20-Day and 50-Day Moving averages of $0.84 and $0.84 respectively. Moreover, the stock is trading above the 200-Day moving average of $0.70.