The eSports sector has grown at a remarkable pace over the course of the past few years and at this point in time, GGTOOR Inc (OTCMKTS:GTOR) is one of the fast-emerging companies in the sector.
Trading Data
On Tuesday, GTOR stock fell 4.22% to $0.0556 with 10.04 million shares, compared to its average volume of 2.50 million shares. The stock moved within a range of $0.0500 – 0.0650 after opening trade at $0.0594.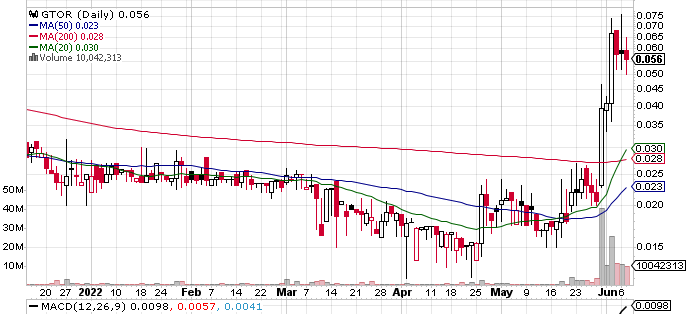 GGTOOR Closes $102,300,000 Deal Buying a Total of 2,145 Parcels of Land in a Metaverse
Yesterday, the company had actually made a major new announcement about a deal but investors did not seem to like the look of it and the stock fell by as much as 3%. The company announced yesterday that it had been successful in closing a deal with a valuation of as much as $102,300,000. The deal was for a virtual land purchase and GGTOOR noted that it believed that it was the biggest deal of its nature in history.
It surpassed a deal of similar nature closed two weeks ago that was worth $5,000,000 by GGTOOR. The total virtual land parcels are going to be turned into GGTOORCITY. GGTOORCITY is going to be a virtual city that is going to be meant for entertainment purposes only. In addition to that, the company is also going to create a virtual eSports Arena in GGTOORCITY. It will be interesting to see if the stock can make a recovery and bounce back today.
Technical Data
GTOR stock is trading above the 20-Day and 50-Day Moving averages of $0.0354 and $0.0227 respectively. Moreover, the stock is trading above the 200-Day moving average of $0.0276.