Premium luxury goods providing company SFLMaven Corp (OTCMKTS:SFLM) was in focus among investors on Tuesday and its stock emerged as a major winner as it ended the day with gains of as much as 17%.
Trading Data
On Tuesday, SFLM stock surged 17% to $0.0007 with 10.19 million shares, compared to its average volume of 38.04 million shares. The stock moved within a range of $0.0006 – 0.0008 after opening trade at $0.0006.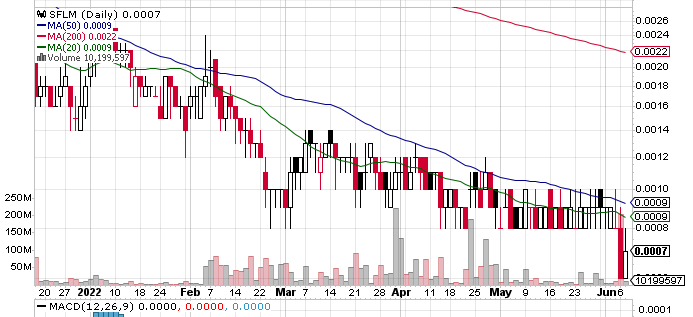 SFLMaven Announces Robust Week Powering $286k in Sales for Seven Days Ended June 2
The company came into focus among investors after it made an announcement with regards to its performance in the week that had ended on June 2, 2022. It should be noted that the numbers had not been audited. The company noted that it had generated considerably strong demand for its goods and managed to clock total sales of as much as $286,000.
One of the biggest highlights of the latest auction was the sale of a 8K WG 28.64CT diamond sapphire tourmaline pearl formal necklace that was sold for $7988. It is clear to see that investors were excited about the latest sales figures from SFLMaven and it is going to be interesting to see if the stock continues to be on the radars of investors in the coming days.
In addition to that, Joseph Ladlin, the company's Chief Executive Officer also announced that the SFLMaven metaverse store had also gone live and that was another major milestone for the company.
Key Quote
"Now that our new Metaverse store is live, we know that's where the excitement is centered," noted Joseph Ladin, CEO of SFLMaven.
Technical Data
SFLM stock is trading below the 20-Day and 50-Day Moving averages of $0.0008 and $0.0009 respectively. Moreover, the stock is trading below the 200-Day moving average of $0.0022.