One of the companies that may come into focus among investors this morning is Good Hemp Inc (OTCMKTS:GHMP) after its stock emerged as a notable gainer and ended the day with gains of as much as 5%. Yesterday, the company was the focus after it provided an update with regards to its acquisition of Petro X Solutions Inc which had been completed on May 11, 2022.
Trading Data
On Tuesday, GHMP stock surged 5.36% to $0.0295 with more than 36.03 million shares, compared to a volume of 3.03 million shares. The stock moved within a range of $0.0284 – 0.0447 after opening trade at $0.0340.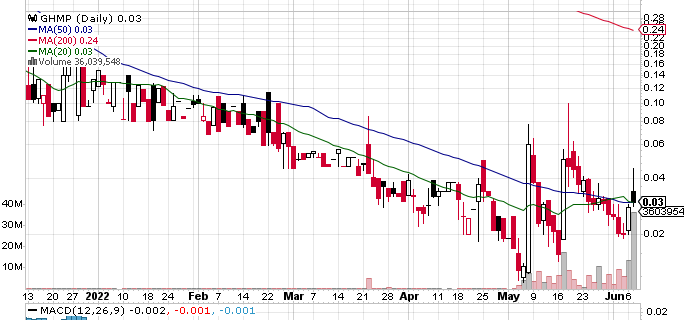 Good Hemp's New CEO Provides Post-Merger Update, Discusses New Business Focus and Strategies
In the update that was provided by the company yesterday, it was noted that following the merger, the name of the company is going to be changed to Accredited Solutions Inc. The board of directors at the company and a majority of the shareholders have provided the approval for the same.
The company is going to file a FINRA application at some point this month for the name change and for it to be implemented. On the other hand, it was also announced that Dr Ron F Sickels, who was appointed as the Chief Executive Officer not too long ago, is going to be responsible for leading the shift in the company's operations to new markets. It remains to be seen if the stock continues to add to its gains today or not.
Technical Data
GHMP stock is trading below the 20-Day and 50-Day Moving averages of $0.0287 and $0.0297 respectively. Moreover, the stock is trading below the 200-Day moving average of $0.2415.