It wasn't a great day in the markets for ZA Group Inc (OTCMKTS:ZAAG) as the stock suffered from a massive selloff and ended up with a decline of as much as 25% for the day. While the decline in the stock was considerable, it ought to be noted that on Tuesday, Forever Brands, the company's fully owned subsidiary, made a key announcement and it may be a good idea to take a look into it.
Trading Data
On Tuesday, ZAAG stock fell 25% to $0.0003 with more than 183.95 million shares traded, compared to a volume of 70.49 million shares. The stock moved within a range of $0.0003 – 0.0004 after opening trading at $0.0003.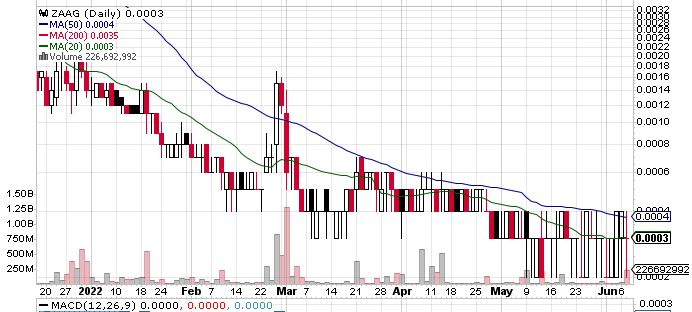 Forever Brands And Brooke Burke Enter Into New Product Endorsement Deal
Forever Brands announced yesterday that it had managed to get into an endorsement agreement with Brooke Burke and the company, BB Body Inc that she owns.
It was a major new announcement from Forever Brands but it was something that was not particularly welcomed by investors if one goes by the price action in the ZA Group stock. As per the nature of the agreement, Brooke Burke and her company are going to be involved in the marketing, promotion, and endorsement of a new brand of superfoods.
She is a well-known influencer and the deal is something that could in fact prove to be a positive for Forever Brands and for ZA Group in the long term.
Technical Data
ZAAG stock is trading below the 20-Day and 50-Day Moving averages of $0.0003 and $0.0004 respectively. Moreover, the stock is trading below the 200-Day moving average of $0.0035.