Western Magnesium Corporation (OTCMKTS:MLYF) is celebrating its gala success in the production of magnesium metal at its commercial pilot plant. The proprietary continuous reactor is operating exactly as designed. It is maintaining target temperature and pressure while facilitating continuous feed, discharge, and magnesium production.
Trading Data
On Tuesday, MLYF stock fell 3.68% to $0.2369 with more than 820K shares, compared to its average volume of 301K shares. The stock moved within a range of $0.2206 – 0.2980 after opening trade at $0.2980.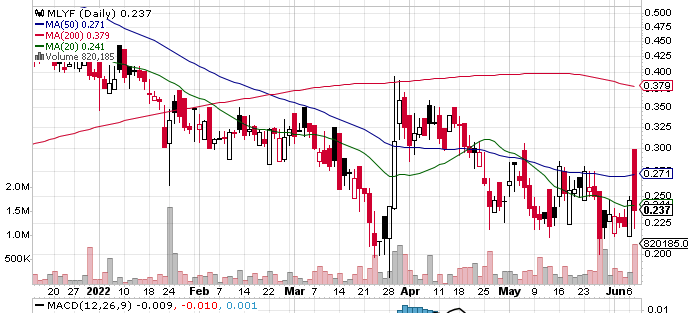 Western Magnesium Celebrates Production of Magnesium Metal with Unprecedented Technology
This proprietary technology allows for the environmentally safe production of magnesium metal. Achieving silicothermic reduction in a continuous reactor is a milestone that has never been accomplished globally to date. Western Magnesium has the fantastic opportunity to fill the increasing demand in the auto, aerospace, airline, eco-friendly industries and the Department of Defense in the U.S.
Magnesium is vital for producing aluminum and titanium. A scarcity of raw material could seriously impact an already tight supply territory. Domestic magnesium production was offshored to China years ago. This was partly due to high operational costs in North America and old production techniques of extraction being deemed harmful to the environment.
Western Magnesium's proprietary technology and production techniques will enable the company to produce 99.8% of pure magnesium metal with near-zero environmental consequences. It will make North America far less dependent on China for this critical mineral that lightens and boasts a wide range of civilian and defense goods and is an additive in multiple other processes such as aluminum and titanium.
Key Quote
"The success of our magnesium production that we are seeing at our commercial pilot plant ushers in a new era for Western Magnesium and the United States," said Western Magnesium's Executive Chairman Ed Lee. "I am humbled by both the management and operations team, and their continued drive to challenge the status quo and develop this unparalleled technology. We are closer than ever to exhibiting how America can run metal production operations in an environmentally sound and sustainable way."
Technical Data
MLYF stock is trading below the 20-Day and 50-Day Moving averages of $0.002410 and $0.27 respectively. However, the stock is trading below the 200-Day moving average of $0.38.