Alternaturals Inc. (OTCMKTS:ANAS) is a shell company that is a publicly-traded Nevada corporation, with no present assets or operations. Management wants to enter into the agricultural technology space by providing technologies for organic food growing and sustainable farming.
Trading Data
On Tuesday, ANAS stock slid 6% to $0.0300 with more than 280k shares, compared to its average volume of 10K shares. The stock moved within a range of $0.0290 – 0.0386 after opening trade at $0.0299.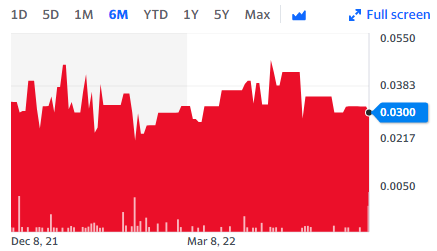 New Direction for Alternaturals, Inc.
Millions of people globally are facing an acute hunger crisis, which is only worsening with each passing year.
Worldwide food security in 2022 is expected to go down further relative to 2021. As per the United Nations, the number of severely food-insecure people has doubled in the past two years, from 135 million pre-pandemic to 276 million today. In 2020, between 720 and 811 million people faced hunger! Due to insufficient arable land and transportation difficulties, the establishment of vertical farms in cities can alleviate the problem of hunger.
Vertical farming is the method of growing crops in vertically stacked layers. The crop yield is much more, yet the unit area of land required is significantly lower. Not only can a larger variety of crops be cultivated at the same time, but they are even resistant to weather disruptions as they are placed indoors, so fewer crops are lost to extreme or unexpected weather occurrences.
However, Alternaturals, Inc. hasn't made any assurances about entering the industry, or any chances of success thereafter, so these objectives are aspirational for now.
Technical Data
ANAS stock is trading below the 20-Day and 50-Day Moving averages of $0.0358 and $0.0325 respectively. Moreover, the stock is trading below the 200-Day moving average of $0.0396.