At this point in time, the Asia Broadband Inc (OTCMKTS:AABB) stock has gone into a downtrend and it is perhaps time for investors to figure out if the stock could make recovery any time soon.
Trading Data
On Tuesday, AABB stock slid 0.85% to $0.0699 with more than 7.03 million shares, compared to its average volume of 12.68 million shares. The stock moved within a range of $0.0695 – 0.0729 after opening trade at $0.0695.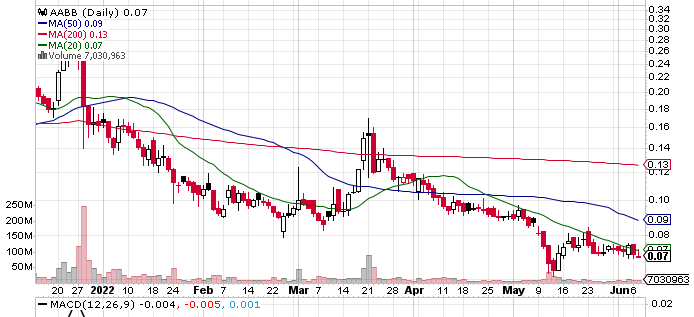 Asia Broadband Awaits Completion of Geological Technical Report for High-Grade Bonanza Gold Mine Project in Acaponeta Mexico
Yesterday, Asia Broadband was in the news after it announced that it believed that the geological technical report for the Bonanza Gold Mine Project is going to be available later this month. The project in question is located in Nayarit, Mexico. A qualified professional is working on the report and Asia Broadband noted that it was at the final stages as of yesterday.
In this regard, it ought to be noted that the company was actually expecting the report to be completed in May 2022. However, the completion of the report was actually delayed so that further exploration could be allowed off the project.
Asia Broadband had taken the decision so that the strong mineral indications could be discovered at the project. It was an important announcement from the company and investors are quite likely to wait with anticipation for the report in the coming weeks. It may be a good idea to keep an eye on the news with regards to Asia Broadband.
Key Quote
"Our management and mining group are highly anticipating the professional report for our Bonanza gold project to allow us to accelerate our expansion and development plans for the property. It was great to see that there were many exciting mineral resource indications throughout the process of data gathering for the report. In a similar scenario to Bonanza, we are also expecting the Tequila property report in the weeks to follow receiving the Bonanza assessment," expressed Chris Torres, AABB President, and CEO.
Technical Data
AABB stock is trading below the 20-Day and 50-Day Moving averages of $0.0753 and $0.0880 respectively. Moreover, the stock is trading below the 200-Day moving average of $0.1256.