Many investors are expected to track the Clean Vision Corporation (OTCMKTS:CLNV) stock today after it emerged as one of the notable gainers yesterday and generated gains of as much as 6% for the day.
Trading Data
On Tuesday, CLNV stock moved up 6.20% to $0.0240 with more than 1.08 million shares, compared to its average volume of 3.26 million shares. The stock moved within a range of $0.0225 – 0.0245 after opening trading at $0.0230.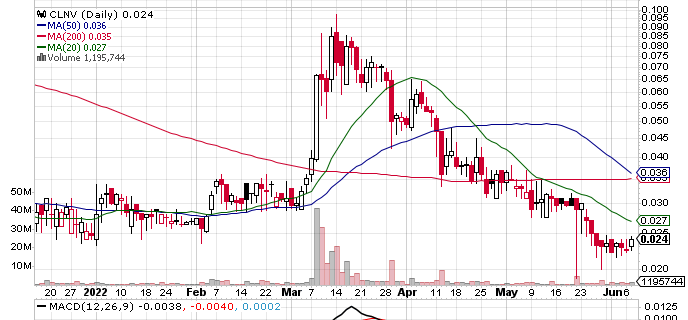 Clean Vision' EcoCell Completes Hybrid Fuel Cell Stack Architecture; Prototype Hydrogen Fuel Cell Designed for World Markets
The rally in the stock came about after the company made a major new announcement with regards to its fully owned subsidiary unit EcoCell. It was announced that EcoCell had finally completed the architecture design with regards to the clean hybrid hydrogen fuel-based cell electric power system. The design had been completed in collaboration with Kingsberry Fuel Cell Power Inc.
It was a major new announcement and the rally in the Clean Vision stock was understandable. More importantly, it was also announced by the company that it expected the inaugural prototypes to be displayed to partners and potential customers at some point in July.
The fuel cell system is meant for providing clean multi-cell hydrogen power and it is going to be interesting to see how the product fares during the demonstrations next month. At this point in time, it may be a good idea for investors to consider adding the stock to their watch lists and watch for further news.
Key Quote
Dan Bates, CEO of Clean Vision Corporation said, "This is an important milestone for the Company, which helps to further demonstrate our vision for creating a complete value chain starting with a plastic waste stream, generating clean hydrogen (AquaHtm), and producing electricity with the only by-product being water — completing the circularity we have been striving for. As countries around the world sharpen their focus on the hydrogen economy, we intend to deliver products and services that will meet this growing demand."
Technical Data
CLNV stock is trading below the 20-Day and 50-Day Moving averages of $0.0269 and $0.0362 respectively. Moreover, the stock is trading below the 200-Day moving average of $0.0350.