As the world produces more and more data on a daily basis, the need for data protection is also going to grow manifold and hence, investors are now increasingly looking for options in that sector. One of the companies that may prove to be interesting at this point in time is the Data443 Risk Mitigation Inc (OTCMKTS:ATDS).
Trading Data
On Thursday, ATDS stock moved up 0.88% to $4.51 with more than 823 shares, compared to its average volume of 430 shares. The stock moved within a range of $4.5100 – 4.5500 after opening trade at $4.55.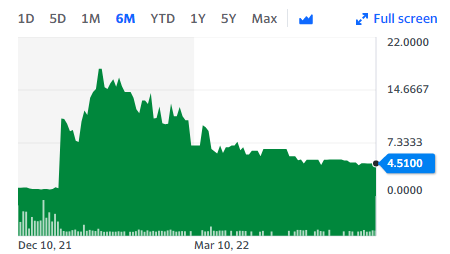 About Data443 Risk Mitigation
The company is one of the leaders in the data security industry and provides a whole range of solutions in the field. The company provides services and products that enhance data security for databases, devices, the cloud, and networks. At this point in time, Data443 Risk Mitigation boasts of as many as 10,000 clients spread across 100 nations. One of the more important things to keep in mind about the company is the fact that it offers a novel approach to data security. It provides security by protecting data across formats, platforms, and locations.
That being said, the stock has not performed particularly well in recent times, and over the course of the past month, it has lost as much as 10% amidst a steady selloff. In light of that, it is important for investors to figure out if the stock can actually bounce back.
Data443 Announces Industry-First Hybrid Classifications Taxonomy at the Gartner Security & Risk Management Summit 2022
As it happens, the company was in the news yesterday after it announced that its data platform Data443® Data Identification Manager Hybrid Classifications Taxonomy was now supported by the Gartner Security & Risk Management Summit 2022, National Harbor.
The company noted that it decided to launch the new features at the summit since it was the best possible forum in which it could be showcased. The news was a significant one and it is going to be interesting to see if the Data443 Risk Mitigation stock can make an upward move any time soon.
"We have always led the industry to supply over 900 sensitive data patterns that are unique and highly accurate with extremely low false-positive rates. We have now raised the bar for our competitors with the introduction of Data443® Hybrid Classifications Taxonomy support – the ability to take our rich classification vocabulary and generate substantially more accurate and variable taxonomies that provide more targeted value for the business," commented Data443 CEO & Founder Jason Remillard.
Data443 Appoints IP Leader and Chief Legal Officer Ms. Pamela Maher
Earlier on in the week on Monday Data443 Risk Mitigation had announced that it had appointed a new Chief Legal Officer in the form of Pamela Maher.
In the press release, Data443 Risk Mitigation noted that Maher joined the company at a crucial time and her varied knowledge as well as abilities are going to be immensely valuable to Data443 Risk Mitigation.
Technical Data
ATDS stock is trading below the 20-Day and 50-Day Moving averages of $4.56 and $4.75 respectively. However, the stock is trading above the 200-Day moving average of $2.80.