A company that could well be on the watch lists of many investors for Friday already is Nano Magic (OTCMKTS:NMGX), which clocked gains of as much as 25% for the day yesterday.
Trading Data
On Thursday, NMGX stock soared 25% at $0.25 with 800 shares, compared to its average volume of 135 shares. The stock moved within a range of $0.2500 – 0.2500 after opening trade at $0.25.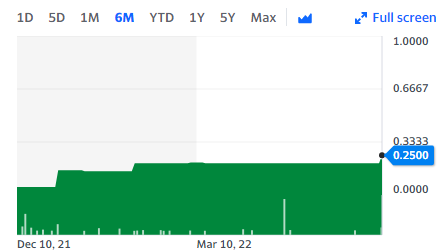 Company Description
Nano Magic is a state-of-the-art nanotechnology company and is best known for creating a wide range of nanotechnology-backed solutions. Some of the products that the company is known for include anti-fog products, lens cleaners, and screen cleaners. In addition to that, Nano Magic also manufactures auto cleaning, household solutions, and protection solutions.
All the products that Nano Magic manufactures are produced at its facilities located in Metro Detroit in the United States. The company sells its products not only through the direct-to-consumer model but also through big-box retailers like Costco, Walgreens, Best Buy, Lowe's, and Walmart.
Nano Magic Launches Force Field® Windshield Protection With Donation To Local Community First Responder Vehicles
On Thursday the Nano Magic stock rallied strongly after it announced that it was going to come up with new products for the automotive sector. One of the products that is going to be a part of the new basket of products is the Nano Magic Force Field Windshield Protection.
It is a windshield treatment product that is easy to apply and apparently forms a force field barrier that can protect the windshield from a lot of things starting from bird droppings, bugs, sleet, rain, and salt. In this regard, it is also necessary to point out that the windshield protection product can be applied once and it provides protection for up to a whole year thereafter. It can be applied to the windshields of cars, boats, motorcycles windshields, trucks, and RVs.
"Our Force Field Windshield Protection Solution is nothing like the old water repellant products that have to be constantly reapplied and barely perform," said Tom Berman, Nano Magic President & CEO. "We formulated a powerful nanocoating to create a super slick, hydrophobic, invisible force field protective barrier for windshields to protect against anything that comes at it for up to one year – and although we're excited to keep windshields cleaner and clearer longer, our primary focus is to help save lives. Repelling rain from the windshield during a rainstorm improves driver visibility to help give drivers that extra split-second of reaction time needed to avoid a car accident".
Nano Magic Sells Majority Interest In Applied Nanotech To Employees And Elects David Sherbin To Board
Another major development with regards to the company took place back on May 27 when Nano Magic announced that it was going to sell its majority stake in the subsidiary Applied Nanotech and had it over to the employees of that company. After it had been completed, Jacque Soptick became the majority owner of Applied Nanotech. Considering the fact that Soptick had been an employee for more than two decades at Applied Nanotech, it was perhaps understandable.