ETC or Environmental Tectonics Corporation (OTCMKTS:ETCC) is one of the more long-standing companies and has been in business as far back as 1969.
Trading Data
On Thursday, ETCC stock ended flat at $0.25 with 2.5K shares, compared to its average volume of 1K shares. The stock moved within a range of $2.6500 – 2.7300 after opening trade at $2.60.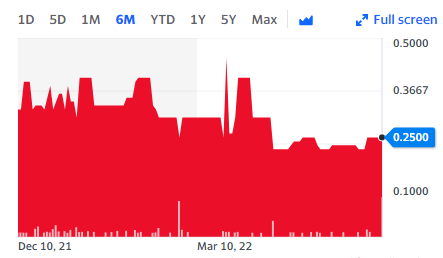 About The Company
Ever since it had been established, ETC had been involved in providing its customers with services, products, and support. In addition to that, the company has continued to innovate and evolve in order to be able to provide its customers with the best possible service. As it happens, the ETC stock has also been in the middle of a steady rally in recent days, and over the course of the past month, it has managed to deliver gains of as much as 14% amidst significant interest. In this situation, it could be a good move for investors to take a closer look at the nature of ETC's business.
The company is a major supplier and innovator in a range of fields. The areas in which ETC is involved include software-related products, environmental tests and simulation, steam and gas sterilizers, Advanced Disaster Management Simulators, altitude chambers, and hyperbaric chambers. In light of the rally in the ETC stock over the course of the past month, it could now be a good time for investors to take a look at some of the latest developments with regard to the company.
ETC Announces Fiscal 2022 Full Year and Fourth Quarter Results
As it happens, the company was in focus yesterday after it announced its financial results for the fiscal year 2022 which had ended on February 25, 2022.
The Chief Executive Officer and President of the company Robert L Laurent Jr noted that although the company's performance was not up to the mark as far as its historic levels were concerned, there was an improvement on a year-on-year basis. The company managed to bring in net earnings of $1.8 million for the fiscal year and that worked out to diluted earnings per share of $0.08. It should be noted in the fiscal year 2021, the company had suffered a loss of $7.5 million. On the other hand, the net sales for the fiscal year stood at $19.1 million and that reflected a year-on-year rise of as much as 17.7%.
Robert L. Laurent, Jr., ETC's Chief Executive Officer, and President stated, "ETC's fiscal 2022 results, though below historical levels, improved over the prior year, but those results were once again affected by worldwide travel restrictions that made sales activities challenging. Fiscal 2022 results reflect a net sales increase of 17.7%, a gross profit increase of 241.6%, and a 14 % reduction in operating expense and other income of $5.2 million, leading to a return to net income of $1.8 million. We enter fiscal 2023 with significant prospects."