The blockchain technology and digital assets industry has grown at a remarkable pace over the course of the past half a decade or so and it is expected to continue to grow. There are now a vast number of companies that operate in the sector but in this context, it is also necessary to keep in mind that there can only be a few companies that may be worth taking seriously.
One of the companies that investors may consider looking into at this point in time is Descrypto Holdings Inc (OTCMKTS:DSRO), which is involved in both blockchain technology as well as digital assets and on top of that, the company is also heavily involved in the lucrative NFT (non-fungible token) space. It has also made serious moves into the metaverse.
Trading Data
On Thursday, DSRO stock ended flat at $0.77 with more than 89 shares traded, compared to a volume of 1.18K shares. The stock moved within a range of $0.7700 – 0.7700 after opening trading at $0.77.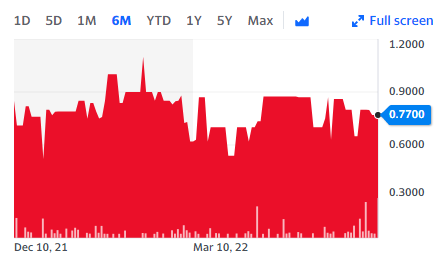 About The Company
As far as the company's NFT projects are concerned, Descrypto is mainly concentrating on projects which are related to sports and entertainment. To that end, the company is even working on the development of a creative studio so that it could create its NFTs far more easily.
On the other hand, the company is also involved in providing support and consultancy services with regard to developing decentralized autonomous organizations. In the past week, the company's stock has been in the middle of a strong rally and has managed to clock gains of as much as 28% during the period.
Descrypto Holdings Announces Formation of Strategic Advisory Board and Appoints Inaugural Members
On Thursday, Descrypto had come into focus among investors after it announced that it had been successful in forming a Strategy Advisory Board. The board is going to be responsible for providing the company's management with much-needed critical support as it continues to expand is business and guns for further growth in its industry.
The company also appointed the inaugural members. Randall Bast and MauryGostfrand had been appointed to the board as per the announcement from the company yesterday.
"I am very proud to announce these two very distinguished gentlemen have joined our Strategic Advisory Board. Randy's start-up experience and tech background is perfectly aligned with our current needs at Descrypto. Maury's entire career has been focused on sports talent, resulting in strong and long-lasting ties throughout the sports ecosystem. We look forward to Randy's and Maury's innovative perspectives and guidance on future strategies and believe they will help serve as a catalyst to the Company's efforts to scale the business and drive value for both shareholders and clients," stated Howard Gostfrand, CEO of Descrypto.
Descrypto Holdings Announces Closing of the OpenLocker Acquisition
Earlier on in the week, the company also announced that it had completed the acquisition of the firm Openlocker. Openlocker is involved in the sports marketing and technology space. It is a strategic acquisition from the company with one eye on its need of growing rapidly in the sports related NFT space. It could well prove to be a long term boost for Descrypto.
Howard Gostfrand, CEO of Descrypto, commented, "We are thoroughly excited to have acquired OpenLocker. We are firm believers that the sports landscape is shifting toward digital ownership of assets and a hunger for more fan engagement. We believe we can deliver that with this acquisition. The OpenLocker team has proven that they have a strong growth plan, a keen understanding of the sports NFT market potential, and an ability to seamlessly integrate technology into the fan experience. We believe OpenLocker will deliver tremendous value to shareholders."