There was no news about Sixty-Six Oil Field Services Inc (OTCMKTS:SSOF) on Monday but that did not stop the stock from going through a steep selloff and ending the day with a decline of as much as 20%. In this situation, it is important for investors to figure out if a quick recovery may be in the offing or not.
Trading Data
On Monday, SSOF stock decreased 21.74% to $0.0018 with more than 5.17 million shares, compared to its average volume of 2.65 million shares. The stock moved within a range of $0.0016 – 0.0020 after opening trade at $0.0019.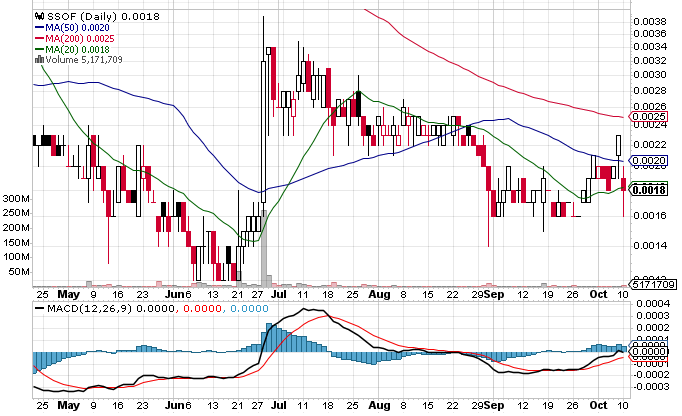 Recent News
Since there has been no news about the company for many months, it may be a good idea to take a look at the last piece of news that had emerged about Sixty-Six Oil Field Services. It was back on March 22 this year that the company had announced that it had been successful in completing the acquisition of a controlling stake in the company Sustainable Water Solutions Inc.
Sustainable Water Solutions is a company based out of Wyoming which is involved technology development, services and assembling of water treatment systems. The systems in question are not only sustainable but also environmentally friendly. The acquisition had been made by the company as part of its initiative to get into the fast growing water treatment industry. It may be a good idea to keep an eye on the stock today.
Technical Data
SSOF stock is trading below the 20-Day and 50-Day Moving averages of $0.0019 and $0.0021 respectively. Moreover, the stock is trading below the 200-Day moving average of $0.0025. The company has a total market capitalization of $95K.