LiveToBeHappy Inc (OTCMKTS:CAVR), which is a vertically integrated firm in the lifestyle services space, was in the news cycle yesterday after it made an announcement with regards to a key new appointment.
Trading Data
On Tuesday, CAVR stock lost 4.01% to $0.0153 with 344.82K shares, compared to volume of 648.87K shares. The stock moved within a range of $0.0143 – 0.0153 after opening trade at $0.0144.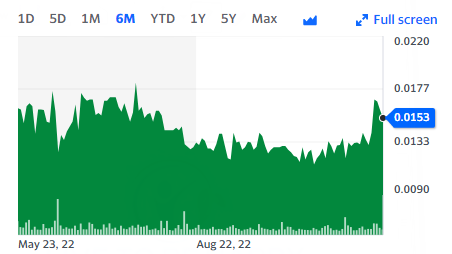 LiveToBeHappy Appoints Joe Caprino as President and Chief Commercial Officer
The company announced that it had appointed a new Chief Commercial Officer and President in the form of Joe Caprino. It goes without saying that it was a major new appointment from LiveToBeHappy and it is expected to have a major effect on the future of the company as a whole. In this situation, it may be a good idea for investors to consider taking a closer look at the credentials of Caprino as an executive and then make up their minds.
Caprino is a highly experienced operator whose experience spans over a period of more than three decades in the business development niche for companies of varying sizes. He has worked in that space for companies at the start-up phase to companies which commanded valuations in excess of $500 million. In addition to that, he is also the principal of Caprino Management.
At LiveToBeHappy, he is going to be in charge of designing and then implementing the commercial strategy for the purpose of bringing about business growth.
Key Quote
"On behalf of our board and management team, I would like to welcome Joe to the position, and we are privileged to have someone of his caliber serve as our President and Chief Commercial Officer," said Kevin Cox, Chief Executive Officer of LTBH. "With his broad experience in developing and implementing growth strategies and a history of achieving measurable results for various companies, we believe Joe will be instrumental as we continue to focus on organic growth and driving additional scale through accretive acquisitions. Joe will help us expand the breadth and depth of our reach as a company, positioning us to generate sustainable value for our shareholders."
Technical Data
CAVR stock is trading above the 20-Day and 50-Day Moving averages of $0.0141 and $0.0131 respectively. However, the stock is trading below the 200-Day moving average of $0.0158.