Allied Energy Corporation (OTCMKTS: AGYP) is a security we've been tracking closely at Top News Guide.  Ever since this micro-cap released a report from oil engineer Mark McBryde forecasting over $32 million in proven reserves between 2 of the companies many oil & gas leases, we've kept a close eye on this stock that some investors have been able to profit wildly off of over the past few months, with the company making several runs over 2021 most notably their push to the YTD high of 83 cents.
Currently, the oil & gas explorer that specializes in reworking proven wells, has fallen to $0.299, right above the Barchart reported support of $0.2748.
How'd the stock get here?
In what has been a historic year for oil, the commodity has recently slumped
After a string of very positive press regarding the company's Green and Annie Gilmer leases, including the aforementioned report, several positive releases regarding operations at the respective sites, and tweets showing photo and video of their work; AGYP has been very quiet the past several weeks.
Probably the biggest culprit of the slide has been the massive short position being taken of the past 6 months.  According to OTCShortReport.com, shorts have accounted for over 50% of AGYP's volume in the past 16 sessions.  I've included a chart below which shows the short volume in the red bars.  Not only is the position extremely overweight, the shorts have been very aggressive in recent sessions accounting for over 70 and 80% of the volume in the past few sessions.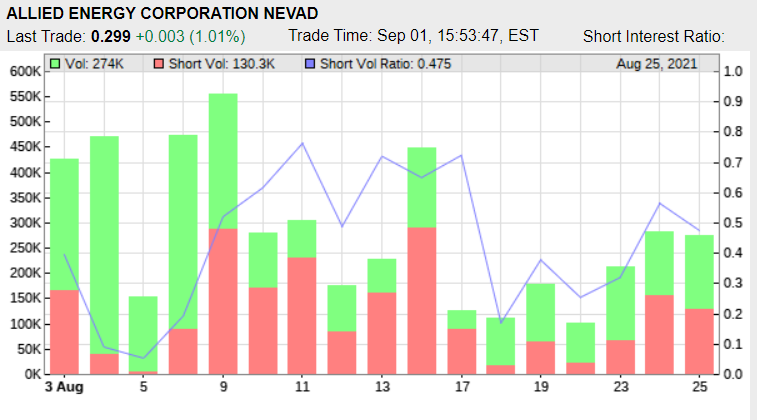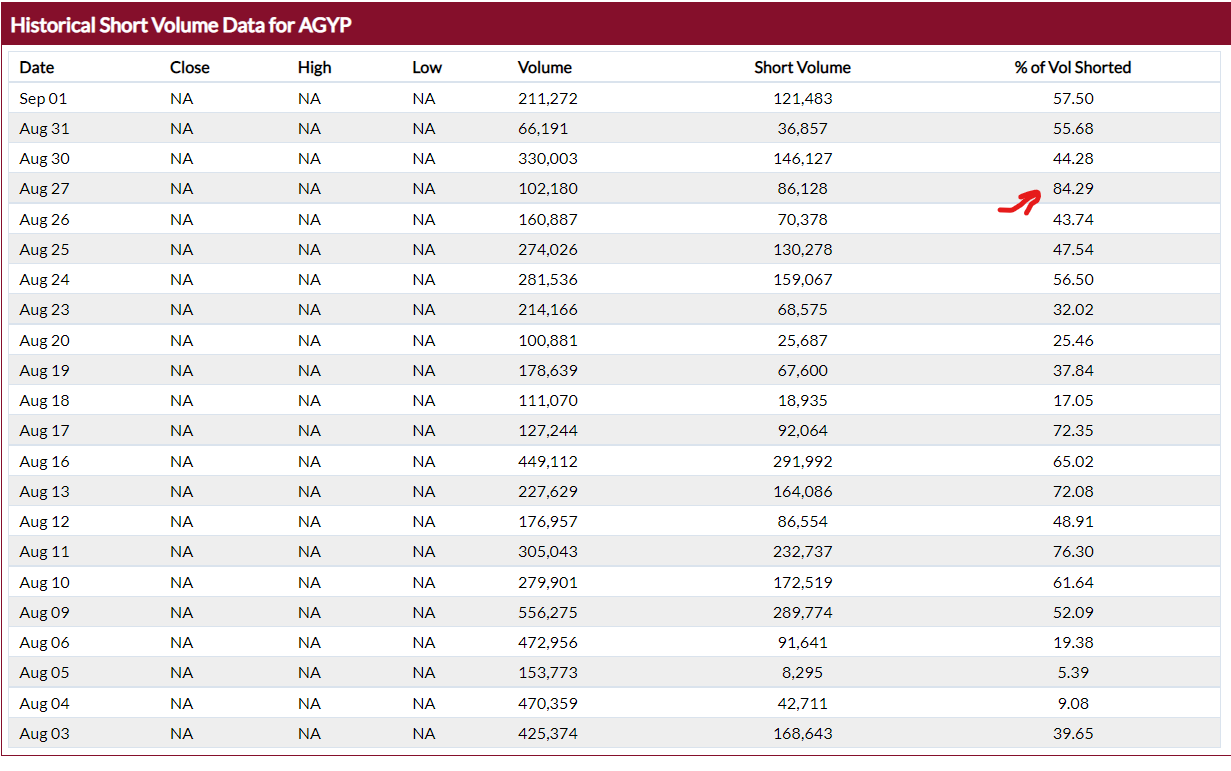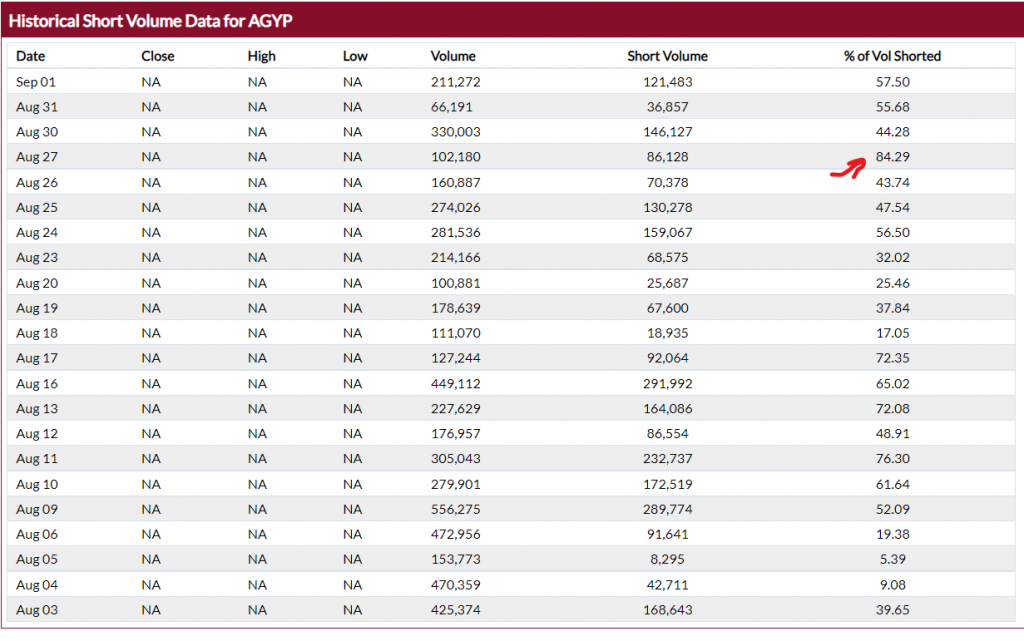 SHORT SQUEEZE IMMINENT?
As they say, pride comes before the fall, and the recent push from the shorts could be a sign of nerves showing.  Consider, oil prices, which have been sliding off their record highs, are beginning to recover, and as of this morning are up on the back of a dwindling supply exacerbated by Hurricane Ida; and hurricane season is just getting started.
Some experts including a well-known Bank of America strategist have called for $100 oil.  That day could be ahead, and AGYP whose $32 million dollars of potential reserves were factored at an oil barrel price of $46 about $54 dollars below the projected value of oil, could be a major beneficiary.
Couple this with Labor Day signaling an end to the summer doldrums, AGYP could not only see an increased appetite from longs, but may end their quiet period soon, and if the company sees any sort of positive news, these shorts would need to cover in a hurry.
The point is, this is generally what a stock looks like before it goes all AMC and GME and squeezes short-sellers into oblivion creating large opportunities for bulls.

One thing is for sure, if you don't have AGYP on your watchlist yet, today would be the day to start.  The squeeze still has yet to begin, and you could be ahead of another move reminiscent, if not bigger than their recent run to 83 cents.