As the earnings season continues, every other day plenty of companies are going to declare their financial results but investors need to be selective with what they look into. One of the companies that you could look into at this point in time is Great Panther Mining Limited (NYSEAMERICAN:GPL), which announced its financial results last Thursday.
Trading Data
On Friday, GPL stock moved up 7.22% to $0.1783 with more than 3.97 million shares, compared to its average volume of 4.59 million shares. The stock moved within a range of $0.1612 – 0.1801 after opening trade at $0.17.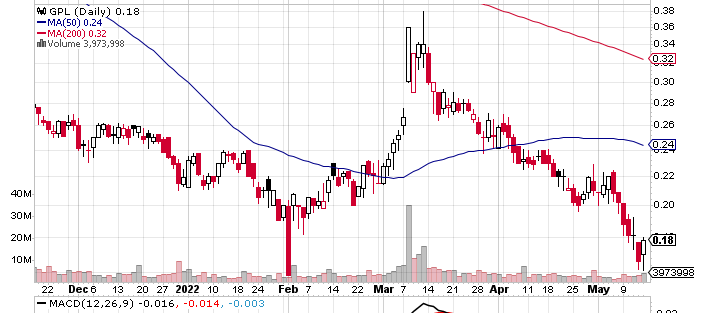 Great Panther Reports First Quarter 2022 Financial Results
In addition to that, the performance came as a boost for the Great Panther stock too as it ended up with gains of as much as 7% for the day on Friday. It may be a good move now for investors to take a closer look at the headline numbers.
The Chairman and interim Chief Executive Officer of the company Alan Hair noted that the results were actually as per expectations. The losses widened to as much as $8.9 million for the quarter which was considerably higher than the net loss of $0.3 million in the prior year period.
Lower production had also come as a major shock to the company's revenues as Great Panther ended up with revenues of only $33.4 million. In the prior year period, the company had ended up with revenues of $52.6 million.
Key Quote
"First quarter 2022 results were in line with expectations and good progress was made on numerous fronts as we build back steady-state production at Tucano," stated Alan Hair, Chair and Interim CEO. "The first half of 2022 is focused on capital intensive programs required to safeguard production in the back-half of the year. Stripping of the TAP AB, TAP C and Urucum North pits is advancing in preparation for ore production in the third quarter, as is mobilization of the new mining contractor. Although still on the road to recovery, I believe we are turning a corner and expect to see improving results as the year progresses."
Technical Data
GPL stock is below the 20-Day and 50-Day Moving averages of $0.20 and $0.24 respectively. Moreover, the stock is trading below the 200-Day moving average of $0.32.