The CynergisTek Inc (NYSEAMERICAN:CTEK) stock gained momentum this week and it may be a time for investors to look into the reasons behind the swing.
Trading Data
On Wednesday, CTEK stock gained 0.85% to $1.19 with more than 1.01 million shares, compared to its average volume of 495K shares. The stock moved within a range of $1.1750 – 1.1900 after opening trade at $1.18.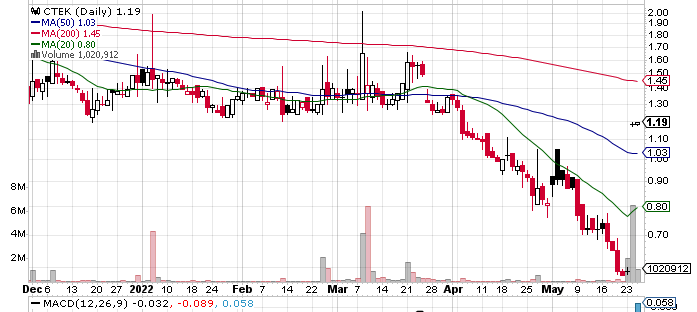 The cybersecurity and IT audit company had come into focus among investors during after-hours trading earlier on in the week on Monday when it soared by as much as 94%. The rally in the stock came about after it emerged that the company had inked a definitive agreement by way of which CynergisTek will be acquired by Clearwater Compliance LLC. It was quite clear that investors were happy with the news and that was perhaps the reason behind the remarkable rally.
Clearwater Compliance is involved in the same industry as CynergisTek and the acquisition is valued at $17.7 million. In this regard, it is also necessary to keep in mind that the entire transaction is going to be conducted in cash.
More importantly, those who hold shares in CynergisTek are going to be paid $1.25 for each share they hold. That represents a premium of as much as 112% from the closing price of the stock last Friday May 20, 2022. It may be a good time to keep an eye on the CynergisTek stock.
Technical Data
CTEK stock is trading above the 20-Day and 50-Day Moving averages of $0.84 and $1.03 respectively. However, the stock is trading below the 200-Day moving average of $1.45.