The pharmaceutical sector has almost always managed to garner significant attention from investors and this morning, it is likely that the NRx Pharmaceuticals Inc (NASDAQ:NRXP) stock is going to come on to the radars of investors.
Trading Data
On Thursday, NRXP stock increased 58.20% to $0.5770 with more than 17.61 million shares, compared to its average volume of 882k shares. The stock moved within a range of $0.4899 – 0.8505 after opening trade at $0.8505.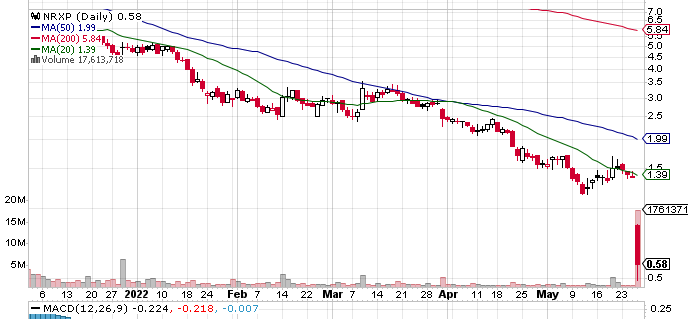 NRx Pharmaceuticals Announces Data Safety Monitoring Board (DSMB) Update on U.S. National Institutes of Health (NIH) Study of ZYESAMI® (aviptadil) in Critical COVID-19
The NRx stock has experienced a major rally on Thursday and managed to record gains of as much as 58% as investors piled on to it in a big way following a key announcement. The clinical-stage biotech firm announced the results from the review that had been conducted by the Data Safety and Monitoring Board into aviptadil on May 25, 2022.
It was an extensive study and the release of the data led to a surge of interest in the stock. It was announced that the Data Safety and Monitoring Board went through the data of as many as 460 patients who had suffered from respiratory failure brought about by COVID 19 infection.
The trial in question had been financed by the National Institute of Allergy and Infectious Diseases (NIAID), which is a constituent of the National Institutes of Health. At this point, it may be a good time for investors to consider adding the NRx stock to their watch lists.
Technical Data
NRXP stock is trading below the 20-Day and 50-Day Moving averages of $1.43 and $1.99 respectively. Moreover, the stock is trading below the 200-Day moving average of $5.84.