Healthcare firm Stevia Corp (OTCMKTS:STEV) saw its stock trade within a range on Friday but at the same time, it ought to be noted that the company was in the news cycle too.
Trading Data
On Friday, STEV stock gained 0.22% to $0.0092 with more than 838K shares, compared to its average volume of 392K shares. The stock moved within a range of $0.0081 – 0.0096 after opening trade at $0.0091.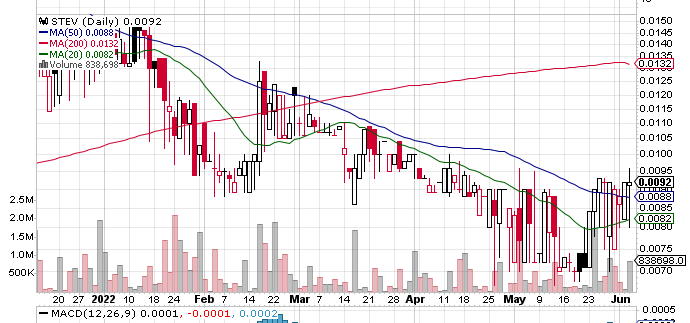 Stevia Corp. Publishes Shareholder Letter Dated June 3, 2022
This past Friday the company's President and Chairman Kenneth Maclora issued a letter that was addressed to the shareholders and it may be a good time now for investors to consider taking a look at some of the highlights. Maclora started off the letter by thanking the long-standing shareholders in the company and commended them for their loyalty as well as dedication.
Then he went on to provide a glimpse into some of the milestones that had been hit by the company since the time he had been appointed as the chairman. He stated that Stevia had been in massive debt at the time and did not have access to the OTC Markets either. Moreover, there was no plans in place that could get the company out of the hole. He added that all the plans that are going to be implemented by the company from now on are going to be based on strong business principles.
Technical Data
STEV stock is trading above the 20-Day and 50-Day Moving averages of $0.0086 and $0.0088 respectively. However, the stock is trading below the 200-Day moving average of $0.0132.