Global Tech Industries Group Inc (OTCMKTS:GTII) on September 27, 2022, announced that the board of directors approved management's request for lowering the original strike price of Warrants, distributed last year, to a fresh strike price of $2.00.
Trading Data
On Tuesday, GTII moved up 41.08% to $2.4900 with more than 8.20 million shares traded, compared to volume of 413.92K shares. The stock moved within a range of $1.8500 – 2.7000 after opening trading at $2.0600.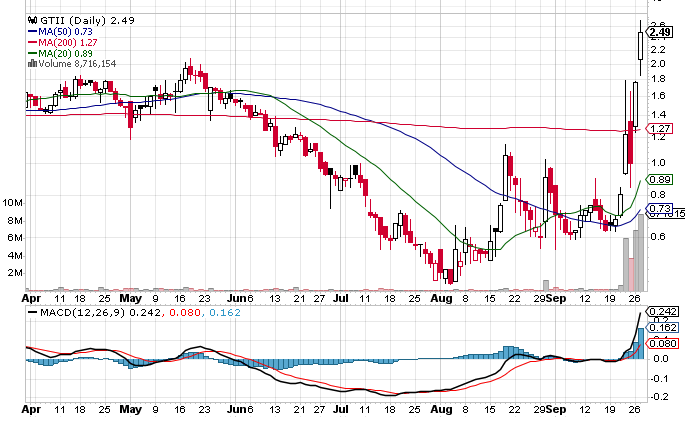 Global Tech Industries Group, Inc. Announces a Board Decision to set a New Strike Price for the outstanding Warrants
Though the original price of $2.75 was within reach, the firm wants to reward its loyal shareholders with a chance to participation at a lower price. Both the process for changing strike price as well as registering underlying stock with the fresh price will be done soon.
The Warrant Distribution gives its shareholders as on April 1, 2021, the record date for the Warrant Distribution, an opportunity to get 0.10 of a Warrant for each share.
The firm confirmed not issuing any fractional warrants. In case any fractional Warrant may be needed, the relevant Warrant holder will get several Warrants, which would be rounded up or down to the nearest whole number.
Warrants can be exercised on any business day before 5:00 p.m., New York City time, on April 8, 2023. The Warrants can be issued in a book entry form and shareholders holding shares in certificate or book entry form through Liberty Stock Transfer need not do anything.
A publicly traded firm incorporated in the state of Nevada, GTII specializes in the pursuit of acquiring innovative technologies.
Technical Data
GTII stock is trading above the 20-Day and 50-Day Moving averages of $1.02 and $0.73 respectively. Moreover, the stock is trading above the 200-Day moving average of $1.27. The company has a total market capitalization of $639 million.