Direct to consumer hearing technology company InnerScope Hearing Technologies Inc (OTCMKTS:INND) is one of the company which emerged as a favorite among investors yesterday and its stock ended up delivering gains of as much as 34% for the day.
Trading Data
On Tuesday, INND stock soared 33.60% to $0.0167 with more than 74 million shares, compared to its average volume of 61.99 million shares. The stock moved within a range of $0.0113 – 0.0163 after opening trade at $0.0125.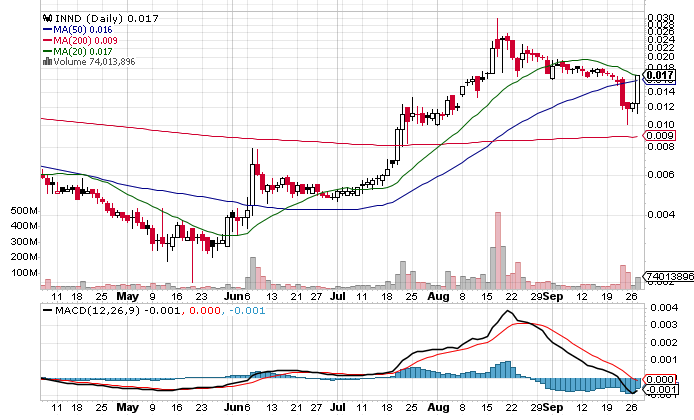 InnerScope Hearing Technologies (OTC: INND) Completes its 2019 & 2020 Audited Financial Statements
There was no news about the company yesterday that may have excited investors to such a degree but earlier on this month on September 14 the company had in fact come into focus following a key announcement. At the time the company had announced that Paris, Kreit& Chiu LLC, its CPA firm had successfully completed the PCOAB audit of InnerScope's annual financial statement for the years 2019 and 2020.
More importantly, the company also announced that the annual reports had also been filed with the United States Securities and Exchange Commission on form 10-K. The company also noted at the time that it had ordered the audit in order to provide investors with greater clarity, certainty and transparency with regards to its financial situation. While it was a major development for the company, it is still unclear if the latest rally in the stock was triggered by that announcement or not.
Key Quote
Mr. Matthew Moore, President and CEO of InnerScope, commented: "InnerScope is pleased to announce that the Company has completed and filed its 2019 and 2020 audited financial statements with the SEC. This has been our major priority for some time now, and audit completion is a critical step to becoming a fully reporting public company with the SEC. Becoming a fully reporting company is a critical and required step to ultimately listing our shares on the NASDAQ stock exchange, another important objective for InnerScope, which is currently one step nearer to being realized," concluded Mr. Moore.
Technical Data
INND stock is above the 20-Day and 50-Day Moving averages of $0.0161 and $0.0159 respectively. Moreover, the stock is trading above the 200-Day moving average of $0.0089. The company has a total market capitalization of $97 million.